.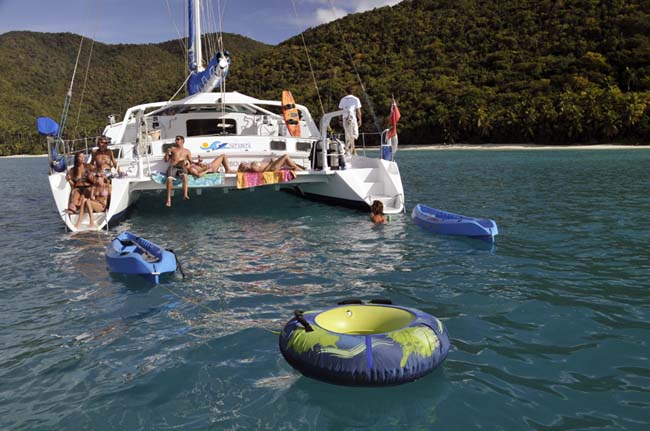 After a fall Charter Yacht Show a few years back, I had the opportunity to sail aboard the charter yacht BREANKER. It was a 5-day cruise with a fellow broker and her friends in the British Virgin Islands. Our wonderful hosts were Capt: Kristian Søndergård and his 1st Mate and Gourmet Chef Marianne Rasmussen.
Marianne rejects the title "Gourmet Chef" in her modest way, but from someone who loves good food, I can't think of a better title.
Onboard BREANKER, Marianne prepares the meals, and Captain Kristian pours the exotic tropical drinks. The fantastic camaraderie of the crew and guests could not have been any better. My time on board BREANKER was perfect.
HERE'S A BIT OF INTERESTING HISTORY ABOUT BREANKER
BREANKER is one of three yachts custom-built in 1991. These yachts were built for a man in South Africa. The story goes, during the South African apartheid, a person was allowed to leave South Africa; the only cavette was you were not allowed to take your money out of the country. So this very shrewd man commissioned a company to have the catamarans built. They were named BREANKER, QUEST, and SHELLETTE. Out of the three, SHELLETTE is the one that is no longer in the Caribbean charter fleet.
When these three yachts arrived in the British Virgin Islands, they were considered the Queens of the charter fleet. My thinking was if I could only book one of these catamarans, I would have made it as a charter yacht broker.
I ended up booking BREANKER numerous times. I had one client who booked her six times. In addition, I also booked QUEST once. Needless to say, these three yachts were very popular, and they are still popular today.
For more information, go to our Information Request page or contact Dennis Dori at Charter the Caribbean at 317-745-1990 or email: charter@charterthecaribbean.com